Men's Month coinciding with Pride Month? Make it make sense.
Right as Pride Month prepares to launch this year, General Santos City passed an ordinance on Wednesday declaring the June of every year as Men's Month with the month's first Monday as a dedicated Men's Day in the city.
According to General Santos City's Ordinance No. 53 Series of 2019, also known as the city's Gender and Development Code, the declaration is "in recognition of the importance of having men as partners in promoting gender equality and equity and in the implementation of gender sensitive programs, projects, and activities." The post was also appended with the hashtag: #HeForShe.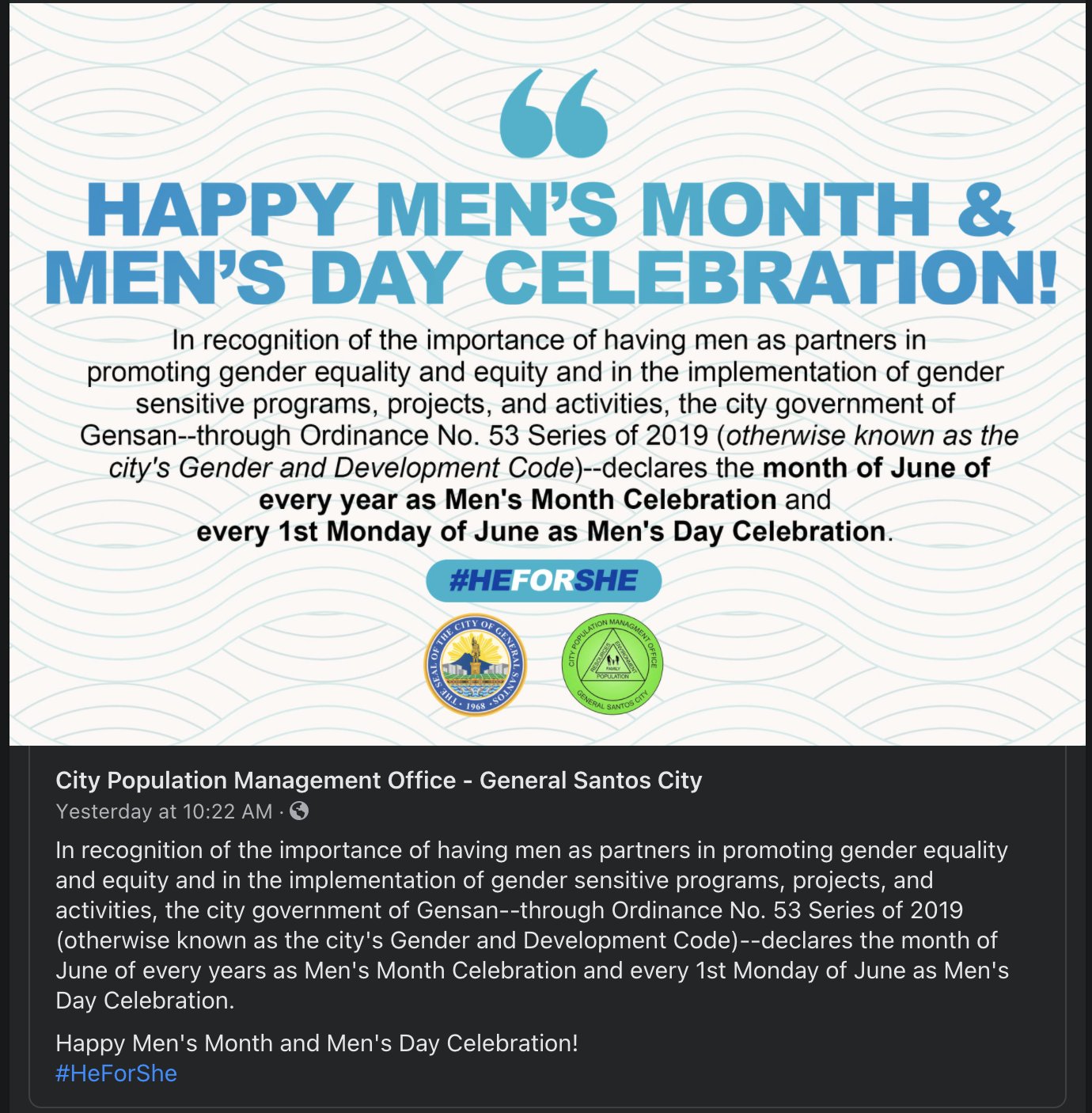 It was the local government's first public post for the month — none indicated that the city has plans to commemorate this year's Pride Month. In fact, there hasn't been such a feature in a while, with the last notable Pride-related event being the city's Equality Parade back in 2016, which coincided with World AIDS Day.
Given that, we humbly think that the energy and resources spent to reach this decision could've gone to launching a proper Pride Month line-up, instead of reinforcing that "straight pride" or a "men's day" is a thing.
They're not, and here's why.
History states that Pride Month was started to commemorate the landmark Stonewall Riots in 1969 which constituted the gay liberation movement and the modern-day fight for LGBT+ rights across the globe. It is rooted in social and systemic oppression against the community that persists to this day.
June is designated as Pride Month to commemorate this persevering struggle — one that men have never experienced, at least not on a degree that merits representation through their own celebratory month. Men have never fought for equality because the society's cales have always tipped in their favor. If anything, for a patriarchal society like the Philippines, men's day is 365 days a year by default.
If we want to recognize men as "partners in promoting gender equality and equity," then let them be called what they aim to be: allies. Let them manifest their ovation by first learning the history then take part in these "gender-sensitive programs, projects, and activities."
Straight and cisgender men can do these things without having to hog the spotlight from the marginalized minorities who fought tooth and nail for even a fraction of it.
And men definitely don't need a hashtag to solidify their support, especially when they've been historically complicit in the oppression they're trying to rectify. Men supporting minorities isn't a campaign — it's corrective action, not to mention the bare minimum for straight folks.
Indeed, men are instrumental in achieving equality, but being an ally should be enough. After all, commemorations like Women's Month and Pride Month celebrate their own and never meant to take anything away from other groups, so men shouldn't feel threatened or discriminated against, right?