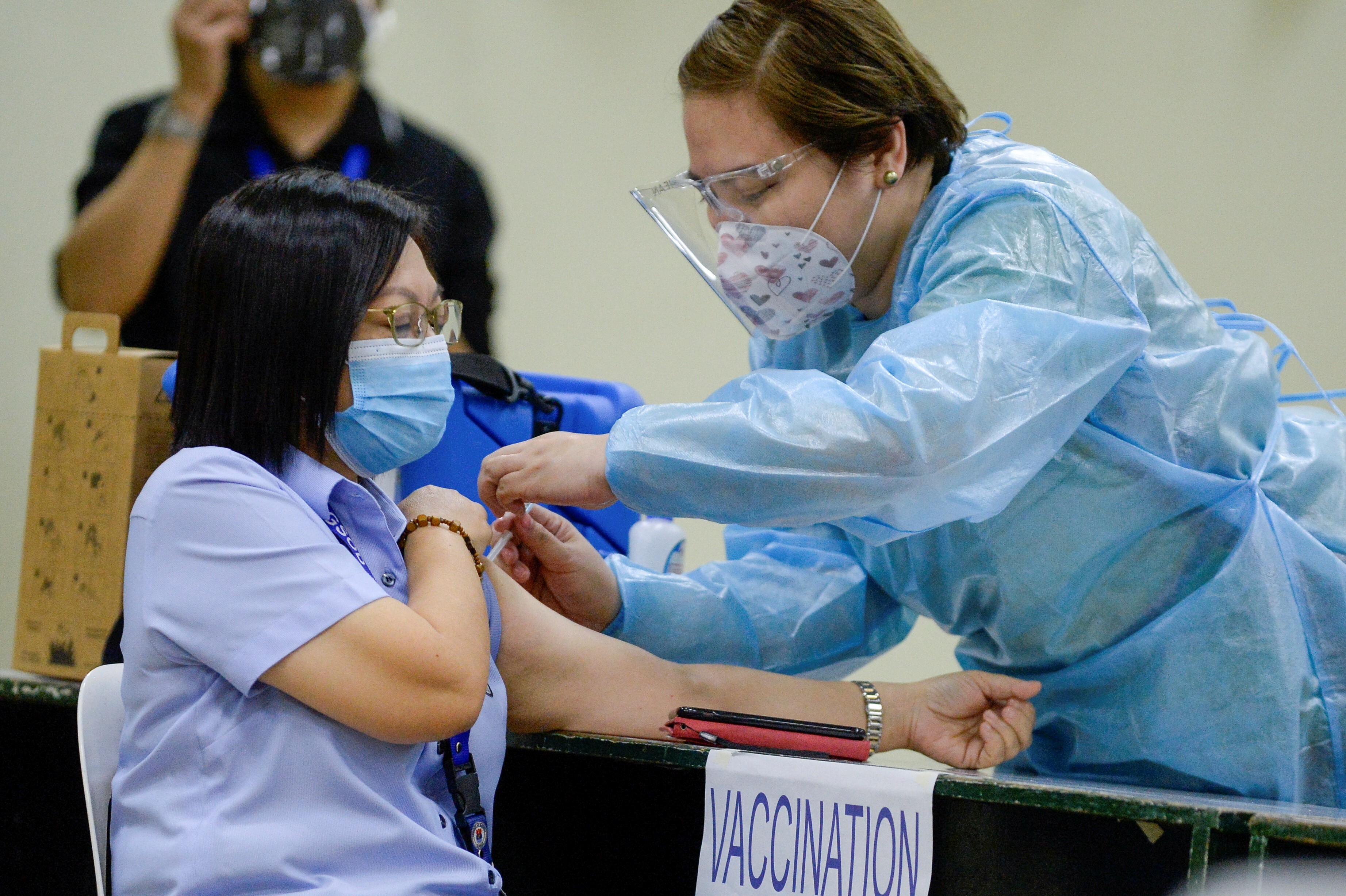 The next group in the government's inoculation program is a pretty big one, so you might want to read on to know if you're in it.
On Friday, the Inter-Agency Task Force (IATF) for the Management of Emerging Infectious Diseases approved the recommendation to add more economic sectors to its previous list of economic frontliners included under the A4 priority list.
According to Rappler, the IATF originally green-lit the inoculation of the following 13 sectors under the A4 priority list:
Commuter transport (land, air, and sea), including logistics
Frontline government workers in justice, security, transport, and social protection sectors (jail employees, police officers, social workers, et al.)
Public and private wet and dry market vendors; frontline workers in groceries and supermarkets; delivery services
Workers in manufacturing for food, beverage, medical, and pharmaceutical products
Frontline workers in food retail, including food service delivery
Frontline government workers (safety inspectors, PSA field enumerators, tax clearance workers, et al.)
Frontline workers in financial services (those working in banks, remittance centers, et al.)
Teaching and related personnel in medical and allied medical courses of higher education institutions, including personnel handling laboratories
Frontline workers in hotels and accommodation
Priests, pastors, religious leaders regardless of denomination
Construction workers in government infrastructure projects
Security guards or personnel assigned in the establishments, offices, agencies, and organizations identified in these priority sectors
Overseas Filipino workers not classified above, and scheduled for deployment within two months
Per IATF's latest approval, the list is now updated to include the following sectors:
frontline personnel in basic education and higher education institutions and agencies
diplomatic community and Department of Foreign Affairs (DFA) personnel in consular operations
Department of Public Works and Highways personnel in charge of monitoring government infrastructure projects
customer-facing personnel of telecoms, cable and internet service providers, electricity distribution and water distribution utilities
frontline workers in private and government news media
The A4 priority group is next in line to get their COVID-19 vaccine jab after groups A1 (health workers), A2 (senior citizens) and A3 (persons with co-morbidities) have already gotten their first doses.
In an interview with Karen Davila on ANC's Headstart, Karlo Nograles, co chair of the task-force, presumes that the inoculation of the next priority group may start around mid-May up to early June. He explains that this is the time when the government expects the arrival of more COVID-19 vaccines from suppliers.
"Siguro mga mid-May up to June, doon na po magkakaroon ng bulk ng ating vaccine na ine-expect for quarter 2 then for quarter 3, obviously, mas marami pang bakuna ang makukuha natin so probably mga mid-May to June, pupuwede na po 'yung A4," Nograles said.