These past few years, the world has been learning more about Black history and what it means to respect and protect the Black community. This is especially true in 2020, which has seen the heights of the #BlackLivesMatter movement. So, to anyone who has access to these resources, it should be obvious enough to not do blackface, right?
Apparently not, according to M.Y.M.P.'s vocalist Chin Alcantara. During an online gig via a now-deleted Facebook live, Alcantara was dressed as Jimi Hendrix for Halloween. A Jimi Hendrix costume in itself would have been okay, but the singer chose to add black facepaint to the look.
This, understandably, drew backlash from the public. However, despite netizens bringing up valid concerns about why blackface is wrong, Alcantara stood by the decision.
"Hindi ibig sabihin ng makeup na itim sa mukha ko na hindi ko pinatototohanan ang centuries na pang-aapi o pang-aabuso sa mga blacks . . . Ang ibig sabihin nito, Halloween, hindi ba?" he said in response to the criticisms.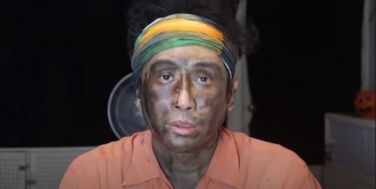 Is Halloween a Valid Reason to Do Blackface?
No. Definitely not.
Halloween is an opportunity to dress up and be creative, to have fun with makeup and clothes. However, no matter what, other people's race or culture shouldn't be treated as costumes. To do so minimizes the struggles and culture of various communities as something you can just go as and have fun with for a night.
The History Behind Blackface
In addition to not dressing up as someone else's race or culture being common sense, there is also a racist history that is specific to doing blackface. Blackface dates all the way back to minstrel shows (which are made up of comic reenactments of racial stereotypes) in the 19th century.
In these performances, white people would paint their skin black in addition to exaggerating other features of Black people. During these shows, the portrayal of Black people is nothing short of insulting. White performers would play up negative Black stereotypes and caricatures for laughs.
With the act of doing Blackface being one that uses someone's race as a costume and is tied to a history of non-Black people only wanting to see the caricature of Black people they've created, it's obvious why there's zero excuse to still be doing it. What is just a Halloween costume to you actually dehumanizes Black people and treats them as caricatures rather than human beings.
Halloween may be over, but this is something you should keep in mind year-long. Next time you ever need a costume, no matter the occasion, just skip the black and brown paint or the foundation that's several shades darker than you. It doesn't have to be that hard!