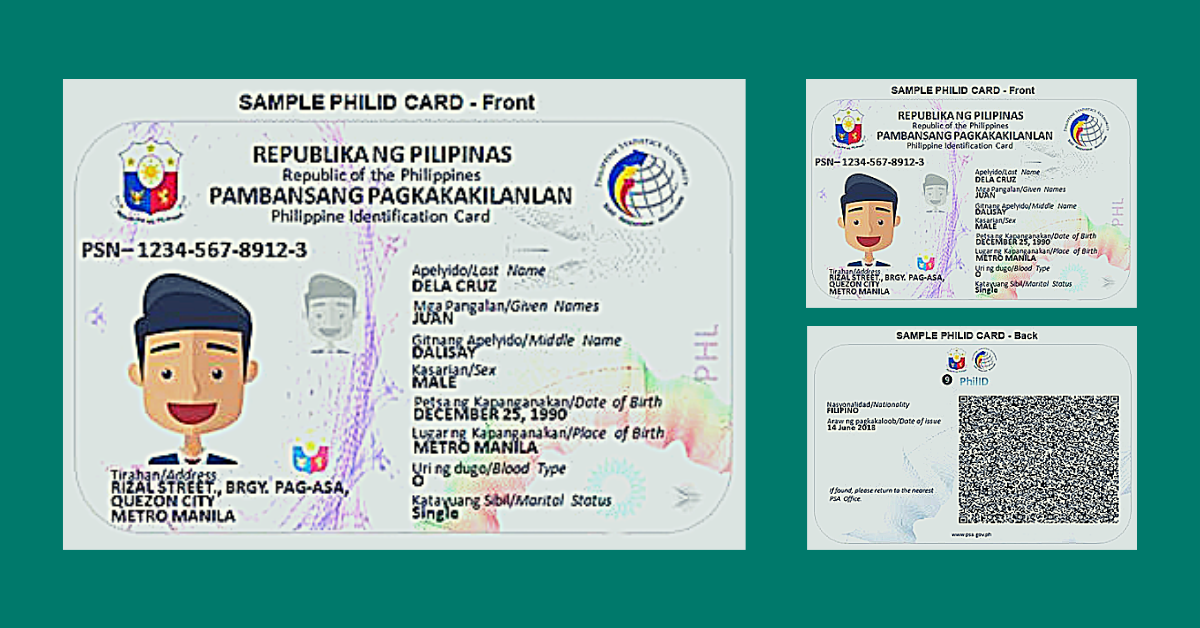 If you're a fresh graduate navigating adult life amidst the pandemic, acquiring those ever-essential government IDs can be a difficult process, not to mention dangerous if you have to venture outside and queue among people.
That's why it serves both as a comfort and a convenience that as of this month, registration for the all-encompassing Philippine Identification System (PhilSys) or National ID can now be done online.
What is the National ID good for?
Signed into law in 2018, the Filipino Identification System consolidates all government-issued ID systems into one in hopes of improving government services by reducing red tape, cutting down on costs, streamlining transactions, and providing the convenience of use.
Through a designated Common Reference Number or CRN, an individual can instead present their National ID in place of the following government-issued identification numbers:
SSS
Pag-IBIG
PhilHealth
Voter's registration
Passport number
Tax Identification Number (TIN)
Driver's license number
The National ID can also be used for the following purposes:
applying for eligibility, services, and access to social welfare and benefits granted by the government;
fulfilling financial and tax-related transactions;
seeking admission to educational institutions and government hospitals;
opening bank accounts and applying for loans;
registration and voting purposes;
employment purposes;
and obtaining the cardholder's criminal records and clearances
National ID holders, however, are advised not to use the new ID system in place of existing government identification that serves a specific purpose beyond identity authentication such as the passport for international travel, the driver's license for driving, or the UMID for social security transactions.
How do I get my National ID?
As of May 1, the Philippine Statistics Authority (PSA) has launched the online registration site for the PhilSys nationwide. However, online, you can only go as far as setting an appointment, as you still need to make a personal appearance at your nearest registration center.
First, go to PSA's online registration portal to set an appointment. Key in either your e-mail address or your Philippine-issued mobile number to receive a one-time password for accessing the site.
Once you're in, choose an appointment date with the nearest branch. Then provide your full name, sex, date and place of birth, blood type, and complete address.
Upon confirmation, you will be reminded to bring the necessary documents when you make your physical appointment. You only need to prepare an original copy of one primary document, which is defined as bearing the full name, front-facing photograph, and signature or thumb mark of the applicant. These are:
DFA-issued Philippine Passport or ePassport;
GSIS or SSS-issued Unified Multi-purpose Identification Card (UMID);
Land Transportation Office (LTO)-issued Student's License Permit or Non-Professional/Professional Driver's License
PSA-issued Certificate of Live Birth/NSO-issued Certificate of Live Birth with Birth Reference Number (BreN)
LCRO-issued Certificate of Live Birth
PSA-issued Report of Birth
PSA-issued Certificate of Foundling
Integrated Bar of the Philippines (IBP) Identification Card
Professional Regulatory Commission (PRC) ID
Seaman's Book
Overseas Workers Welfare Administration (OWWA) ID
Senior Citizen's ID
SSS ID
Pantawid Pamilyang Pilipino Program (4Ps) ID
License to Own or Possess Firearms (LTOPF) ID
NBI Clearance
Police Clearance/ID
Solo Parent's ID
PWD ID
Voter's ID
Postal ID
Taxpayer Identification Number (TIN) ID
Philhealth ID
Philippine Retirement Authority (PRA)-issued Special Resident Retiree's Visa (SRRV)
National ID from other countries
Residence ID from other countries
The second step involves validating your supporting documents and collecting your biometrics and profile.
Once you're done with the first two steps, you just need to wait for your PhilID and PhilSys Number (PSN) to be issued. The ID will be delivered to you through the postal system.
Remember: getting your National ID is free of charge! Only when you lose, damage, or need to change information entries in your ID will you be charged with an amount to be set by PSA.
As government institutions get more robust, the consolidation of the Philippine Identification System might be the key for common Filipinos to making the most out of social services.