The long-running daytime host claims it's not about recent allegations of workplace mistreatment, but about her want to be "creatively challenged."
After almost two decades, the daytime talk show host is departing "Ellen" once her contract ends in 2022, a spokeswoman for its host Ellen DeGeneres confirmed.
In an exclusive interview with The Hollywood Reporter on Wednesday, DeGeneres said that while the show is "great and fun" for her, doing it is "just not a challenge" for her anymore.
"I'm a creative person, and when you're a creative person you constantly need to be challenged," DeGeneres said to THR. "Which is why I decided to host the Oscars or why I decided to go back to stand up when I didn't think I would. I just needed something to challenge me."
The bitter end to "Ellen" doesn't come as a surprise, though, as her plan to step down from the show has not only been long slated, but also publicly and repeatedly talked about, since her contract with Warner Brothers only runs until 2022.
The announcement also comes after a steep ratings decline in recent months, with Ellen's viewers plunging by more than a million viewers in the latest 2020-2021 season, a marked 43% drop from the previous season.
Though other daytime talk shows suffered the same decline, the impact to "Ellen" was undoubtedly bigger given the controversy she was embroiled in back in 2020 that saw her facing accusations of workplace misconduct. The New York Times reported that back in July, Buzzfeed bared claims that several former and current staff members had confronted "racism, fear and intimidation" on the show's set, with some even alleging that "producers had sexually harassed them."
Three executive producers were booted following an investigation by the show's production studio, Warner Bros., and DeGeneres both apologized privately to the staff members and publicly during an episode last September.
"I learned that things happened here that never should have happened. I take that very seriously, and I want to say I am so sorry to the people who were affected. I know that I'm in a position of privilege and power, and I realize that with that comes responsibility, and I take responsibility for what happens at my show," she said during the premiere of the show's 18th season.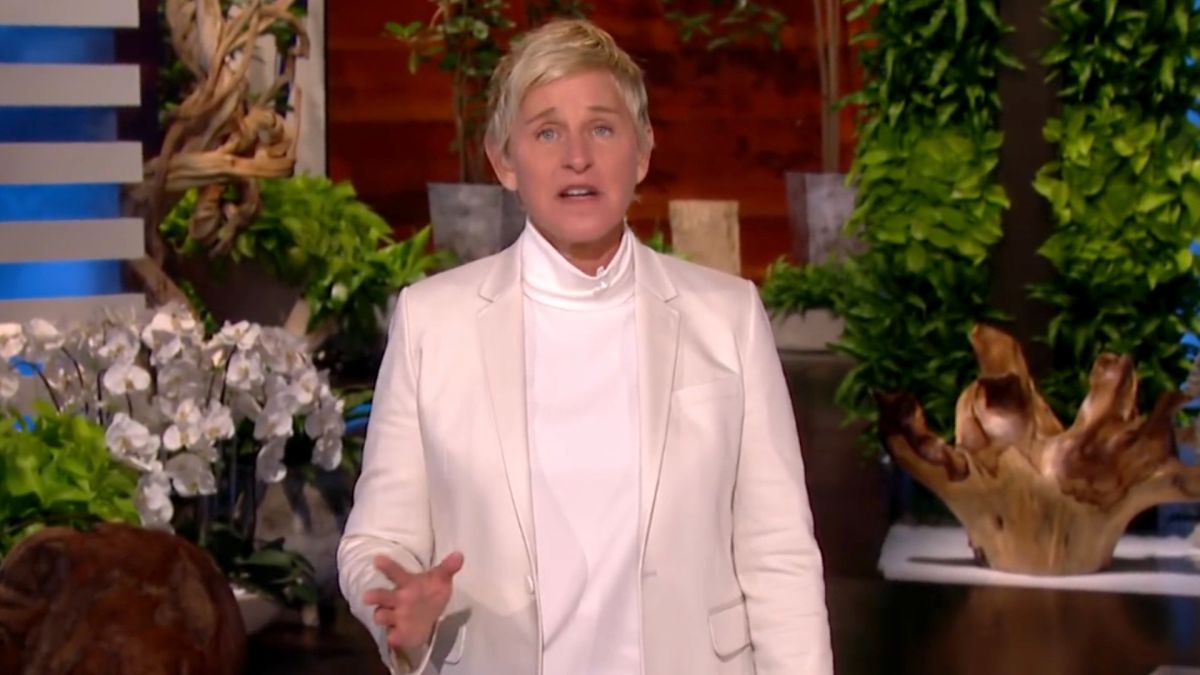 While the investigation didn't identify her as the cause of the toxic work setting, the allegations did allude to DeGeneres' offscreen behavior, which was far from the "kind lady on TV."
"Being known as the 'be-kind lady' is a tricky position to be in," she said during the wake of the allegations. "The truth is I am that person you see on TV. I am also a lot of other things. Sometimes I get sad, I get mad, I get anxious, I get frustrated, I get impatient. And I am working on all of that, and I'm especially working on the impatience thing. And it's not going well because it's not happening fast enough."
DeGeneres, however, claims on her THR interview that her decision to depart has nothing to do with the slew of allegations from the show's staffers. "It almost impacted the show. It was very hurtful to me. I mean, very. But if I was quitting the show because of that, I wouldn't have come back this season," she said. She also shared that her plans to leave have been lingering as far back as the show's 16th season.
"I was going to stop after season 16," DeGeneres said. "That was going to be my last season and they wanted to sign for four more years and I said I'd sign for maybe for one. They were saying there was no way to sign for one. 'We can't do that with the affiliates and the stations need more of a commitment."
The Ellen DeGeneres Show debuted on NBC in September 2003. Spanning 19 seasons and reaching a milestone of 3,000 episodes just last month, the daytime variety show currently holds the record for most Daytime Emmy Award wins, bagging four for Outstanding Talk Show and seven for Outstanding Talk Show Entertainment.
Though built for a Western audience, The Ellen Show has had its fair share of Filipino talents as guests. The show has flown out singers Marcelito Pomoy, "karaoke girl" Zendee Tenerefe, online sensation Rhap Salazar, and avid Lady Gaga fan Maria Aragon to belt out songs on the Ellen stage. And who could forget when 3-year-old geography prodigy Noah Ascano wowed the talk show herself when he named every country and their capitals on the globe?