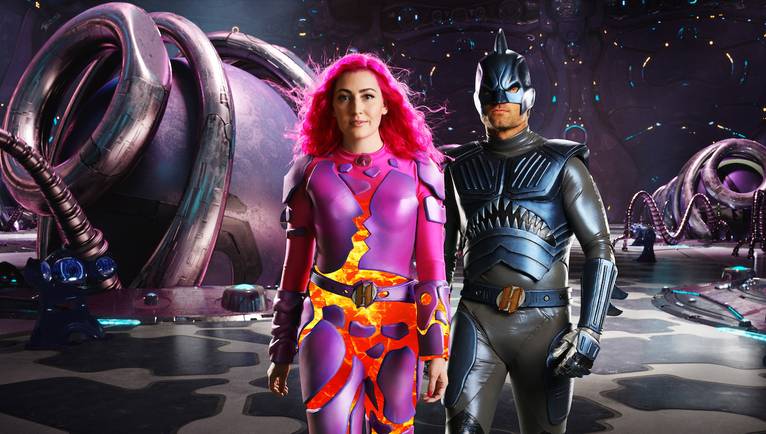 Ok, we're still a little lost for words that Sharkboy and Lavagirl are all grown up and have their own kid now. But considering that the first movie came out 15 years ago, maybe we can look over this one.
Netflix's We Can Be Heroes, the sequel to 2005's The Adventure of Sharkboy and Lavagirl in 3-D, sees the young superhero tandem become parents to their sole super-daughter, Guppy, played by Vivien Lyra Blair, also known as Girl in the acclaimed Netflix original, Birdbox.
As if the gaping years in between movies weren't enough to shock us, the movie hit us with one more: Taylor Lautner won't be playing Sharkboy. Instead, he will be played by JJ Dashnaw. Meanwhile, Taylor Dooley, who was 12 during the first movie, will once again don the mantle of Lavagirl.
Okay, maybe that's a good enough reason for Taylor to not revisit the character.
In the new sequel, the youth will have to step up to the plate once more as a team of superheroes dubbed The Heroics will require rescuing from their super-powered kids after getting kidnapped by alien invaders. Logan's Boyd Holbrook, Suicide Squad's Christian Slater, and The Mandalorian's Pedro Pascal have all been confirmed to be part of this superhero team. The cast will also feature Priyanka Chopra Jonas, Christopher McDonald, and long-time The Walking Dead persona, Sung Kang.
The movie debuts on the streaming platform on January 1, 2021 — and what could be a better way to kick off a new year than a solid superhero throwback movie?
Watch the official trailer below:
(Images: Netflix)