Disclaimer: Their words, not ours!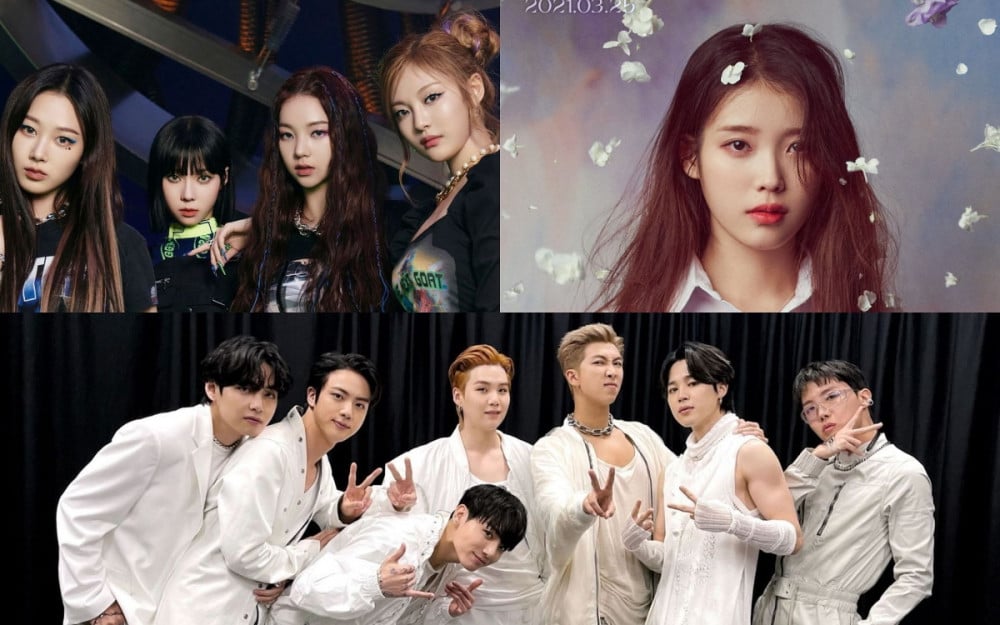 In 2021, the width and breadth of the genre known as K-Pop only seemed to have expanded from its already-robust range. We've witnessed groups making a comeback, idols pushing or even crossing the boundaries of K-pop songs. The solo voices break away from the chorus to create their own sound. That all these happened during a year that still saw a global pandemic rage on is nothing short of impressive.
Records have been broken, awards have been won, and charts have been smashed. Still, there remains much to be said, specifically by TIME, on the critical impacts of select K-Pop songs and albums on the genre as a whole.
With that being said, here's a gentle reminder that TIME's list comes from a critical standpoint, so feel free to agree or disagree with this list to your heart's content. The fact remains that we got great bangers all throughout the year!
"Savage," by aespa
Written by Yoo Young-Jin, "Savage" is the "hyperpop-tinged title track from the EP of the same name by aespa, is one of k-pop songs released last October. With its "clanging electronic instrumentation" and cathartic rap verses, the single perfectly seals the ferocity and edginess that is aespa.
"Cinema" by CIX
They may have just debuted in 2019 but CIX has already grasped how to fully commit to a concept, as seen in their rhythmic, retro-style synth-pop track, "Cinema." The song is the lead single of their fourth EP, Hello Chapter Ø: Hello, Strange Dream and features airy harmonies and synth notes that will hook you in like a serenade.
"Love So Sweet" by Cherry Bullet
Another retro-style synth-pop song is "Love So Sweet," the title track of Cherry Bullet's first mini-album Cherry Rush. Like a good dessert, the sweetness is subtle, reeling you in with hushed vocals singing strong verses all while the melody moves in a satisfying swing all throughout.
"Fever" by ENHYPEN
Still hungover from ENHYPEN's first title track of the year, "Drunk-Dazed," fans were treated to another hot track in "Fever" from their second mini-album BORDER: CARNIVAL. Like a rising fever, the song's hazy synth sounds and its creeping melody perfectly complement the audible palpitations and the raspy vocals.
"Pirate" by Everglow
We move to something more feisty and fast-paced in Everglow's "Pirate," whose jumbled structure somewhat still makes sense amidst the noise and the "we make our own rules" mood of the track. Clearly, Everglow marches to the adrenaline-filled beat of their own drums.
"Rock With You" by SEVENTEEN
The title may imply heavy-hitting melodies, but SEVENTEEN's "Rock With You" is rougher around the edges in sight than in sound. Although given the landscape of comebacks last October, the song's "electrifying guitar riff, a propelling rhythm, and an all-around galvanizing energy" very easily became one of K-Pop's peak of the year.
"ASAP" by STAYC
It's cute, it's colorful, and just arresting all the way through: "ASAP" by STAYC strikes all the right balances. Its tempo isn't surging, but it's super energetic, and its syncopated rhythm paired with its beepy-bouncy synth notes are more than enough to keep us bopping and swaying.
"Advice" by TAEMIN
The haunting piano intro of TAEMIN's "Advice" is a definite hook to fans and a taunt to the critics that the SHINee vocalist is a veteran for a very good reason. His voice flows and fluctuates to the enchanting melody, and the brisk, heart-pumping trap beats make this song a playlist staple.
"After School" by WEEKLY
We're all suckers for a sweet and sunny concept, which is what WEEKLY's "After School" was happy to provide. From the outfit to the set, and of course, to the solid vocals that accompany the eager tempo, this is one sunny, euphoric track that might as well mark the joy that comes with school ending.
"Feel Like" by Woodz
In "Feel Like," Woodz continues his successful voyage as a soloist. Smooth and sultry, the track allures with its deep bass and electric guitar solos that are sonically sleek. Once it reels you in with the first half, it caps off its snare with solid rap segments in the second verse that are just magnetic, if anything.
Meanwhile, here are TIME's top 10 K-Pop albums to hit digital and physical shelves this year:
Waterfall, B.I.
Querencia, Chung Ha
Atlantis, SHINee
NOEASY, Stray Kids
The Chaos Chapter: Fight or Escape, TXT
Lilac, IU
Devil, ONEUS
Formula of Love: O+T= <3, TWICE
ONF: My Name, ONF
Art Daniella Sison