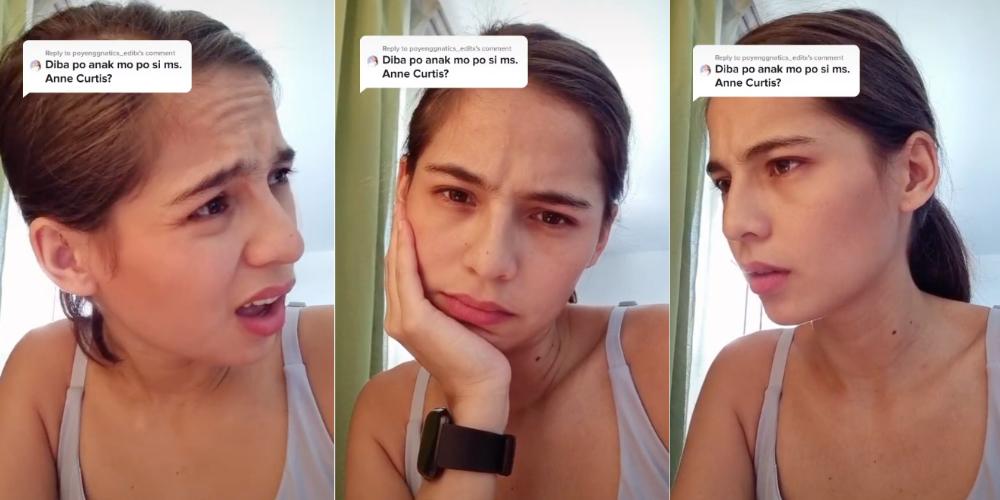 It's one thing to get siblings confused as to who's the older one between the two, but it's a different (and weird!) thing altogether to confuse a sibling as the other's mother.
This was the odd issue that Jasmine Curtis-Smith clarified on a TikTok video on Monday, but not before groaning and laughing a fan's questions off: "Diba po anak mo po si Ms. Anne Curtis?"
In the reaction video, The Alter Me actress reacted with an array of astonished faces, then jokingly grimaced on camera while saying: "Ten years akong mas bata sa kanya!"
Under the video, her followers started piling on the hilarious comment, with one teasing the actress that she does look older than Anne Curtis. Another also joked: "ganyan talaga pag bunso napagkakamalang panganay."
"[Eh 'di] Sana naging ate ako hindi nanay sa pag-iisip nya," Jasmine replied.
Just in case there's still any doubt: yes, Jasmine is the younger "sestra" of Anne. Both actresses' parents are Carmencita Ojales and Ernest James Curtis-Smith, and they were both born in Australia.
If you're wondering why Jasmine Curtis-Smith uses her father's surname while Anne does not, the former explained through an interview with Philippine Star last March that it was a deliberate choice. In fact, it was her sister Anne who struggled to keep the surname when she entered showbiz more than two decades ago.
"I know she tried so hard to keep it. It was a challenge for myself. I felt na sayang naman 'yung full name, 'yung Curtis-Smith, I really, really like it, so if I can try to retain it, by all means I'll do my best," Jasmine said.
"Open naman ako i-drop siya eventually and I don't get mad, but I prefer na may Smith kasi for some reason it was also a way to identify me. Like people naturally know that she's Anne Curtis and me as Jasmine Curtis Smith," she continued.
Jasmine Curtis-Smith might still be far from getting blessed with her own "Baby Dahlia," but she certainly won't become a mother to Anne Curtis, ever.