As always, the heat this summer gets you a little bit thirstier and sometimes, water just isn't enough. Get your fill of these cool drinks especially for the caffeine addicts!
Iced Caffe Americano – Bo's Coffee
Get yourself just the right boost to get you started in the morning with Bo's Coffee's Iced Caffe Americano! This strong yet smooth americano will surely give you a wake up call!
Cold Brew – Lune Specialty Coffee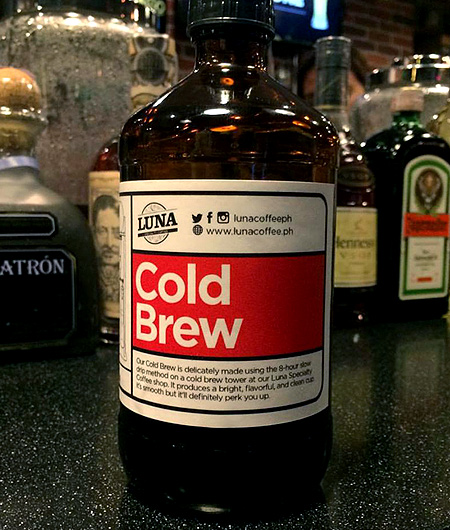 Coffee is always great with breakfast food, but what if it's just too hot outside to have a delicious hot cup? If you find yourself yankering for one of Luna's special Filipino dishes, pair it with their amazing cold brew. Trust us, it hits the right spot, especially after a long day.
Iced Pistachio Latte- Bo's Coffee
For those with a sweeter tooth but still want some caffeine in their system, Bo's Coffee's Iced Pistachio Latte is the perfect choice for you! With just the right mixture of sweet and bitter, expect a smooth drink to fill your tastebuds!
D.O.M. – Candid Coffee
Image From Candid Coffee
Candid Coffee only uses fresh coffee beans for their selection of coffees so rest assured you'll definitely get quality! One of the famous drinks, D.O.M., has a unique name that fulfills its promise of smooth and tasty caffeine rush!
Signature Cold White Brew – Bo's Coffee
Living up to its name, Bo's Coffee's Signature Cold White Brew proves to be \ caffeine addict favorite! The taste is very smooth and balanced. without any lingering bitterness whatsoever. The milk also adds another flavor to it that's nothing short of delightful.
Looking for more ice cold coffee choices, but want a more convenient experience? Well, Bo's Coffee is now on Lazada! With a few quick clicks, you can have your favorite drink and meal ready for pickup. Order today!
—
FreebieMNL is officially on Messenger and Viber! Get first dibs on the hottest deals and discounts and get a chance to win free load and other prizes when you subscribe today! Click here to join messenger! And click here to join Viber!