Note that the Department of Health's explanation only applies to a specific kind of face shield.
During Friday's Senate blue ribbon committee hearing, Pharmally Pharmaceutical Corporation's Krizle Grace Mago admitted to lawmakers that the company has tampered with the production dates of face shields procured by the Department of Health (DOH): From 2020, the date is altered to 2021, thereby wrongly extending its shelf life.
In response, President Duterte mulled the possibility of face shields expiring during Monday's pre-recorded Talk to the People. There, he voiced his doubt that face shields, even medical-grade ones, would become ineffective that fast.
"Paano ito mag-expire? Unless abusuhin mo, itapon-tapon mo. Pero kung isuot mo lang at ilagay mo lang ng magandang pagkalagay. Paano mag expire 'yan? Mag-expire siguro but 10, 15 years.," wondered President Duterte. "Eh kung maalagaan mo lang 'yan, matagal 'yan."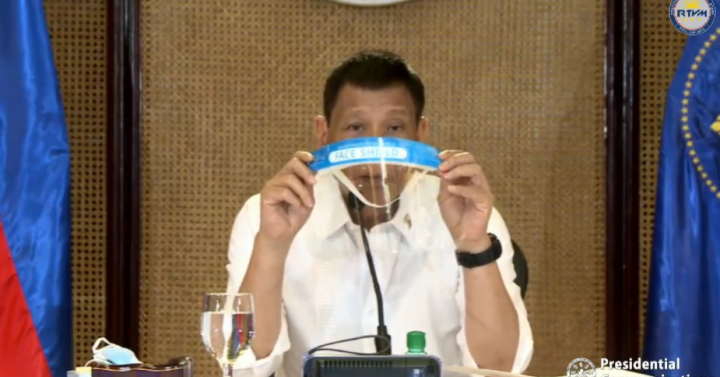 It has since sparked a debate regarding the protection that face shields provide when it's used beyond its expiry date. Does your face shield stop being useful when it expires?
Do face shields really expire?
According to DOH Secretary Francisco Duque III, the government-procured face shields that were alluded to during the Senate hearing and President Duterte's Monday Cabinet meeting — the ones made with a plastic acrylic sheet with foam brick and garter — have a shelf life of about 36 months.
Beyond this period, the foam, which acts as a cushion on the wearer's forehead, will start to degrade, as the garter that keeps the foam in place becomes frail over time.
''Yung kaniyang foam ay dapat tumagal at garter dapat tumagal ng 36 na buwan," said Duque to Duterte during the Cabinet meeting. "Yung garter ay nagiging brittle din po at yun po yung tinatawag natin na may shelf life of about 36 months," he said.
On another occasion, DOH Undersecretary Maria Rosario Vergeire added that even though they aren't perishable, face shields still deteriorate as time passes.
"Meron po siyang foam na nakadikit diyan para hindi masakit sa noo ng ating healthcare workers. Ito pong foam na ito over time, nag-pu-pulverize po 'yan, nadudurog. 'Yung iba nag-di-discolor po 'yan," Vergeire explained.
Does it matter if we wore expired face shields?
The DOH's argument against using expired face shields is rooted more in the instrument's diminished performance rather than the expired material's perceived health hazard.
According to the United States' Center for Disease Control and Prevention (CDC), personal protective equipment (PPE), including face shields, must be used within its manufacturer-designated shelf life, which is known by exposing the PPE to extreme conditions for prolonged periods.
However, as shortages persist across healthcare industries worldwide, health ministries must ensure that extending the life of PPEs involves stringent age testing before they are used out-of-date by frontline workers.
Art Daniella Sison