Unless you're leaving your air-conditioning unit 24/7 on, we're willing to bet we all share the same sweaty legs and armpits these days. The summer heat is punching up year after year, making cooling down tougher and tougher too.
Here's a tip: if leaving the AC on or ordering ice-cold milk tea every day is too costly, then why not invest in your own ice cream maker? You have all the ingredients within reach anyway, and under this heat, you'd want your frosty treat without having to wait for delivery.
How does an ice cream maker work?
Before knowing how the machine makes the dessert, let's first skim through who the dessert is made. Ice cream literally just involves different types of one ingredient found in its name: cream, or more technically, milk.
With a little elbow grease, you can make the most basic ice cream by whipping cream in a bowl until it peaks and leaving it to chill in the freezer. Other recipes can consist of simmering cream mixed with milk, sugar, and salt before whipping it and stowing it away to chill. Mix some fruit and yogurt in there and you make frozen yogurt or beat some eggs into the bowl and you get custard ice cream — you can add whatever you want but the base recipe is as simple as it can be.
Now, where does the ice cream maker come in? Simply put, the ice cream maker does the work for you, and more.
With its built-in motor, the machine mixes all the ice cream ingredients. Depending on the model, an ice cream maker also freezes the mixture gradually while churning to let it aerate, keeping the ice crystals small and resulting in a creamier feel.
Thus, when buying an ice cream maker, make sure to check three things: capacity, consistency, and countertop space. Most ice cream makers offer only two bowl sizes: 1.5 quarts and 2 quarts.
Where can I buy an ice cream maker?
The technology is specific, but luckily, the biggest online marketplaces still carry these nifty summer solutions.
Xiaomi YOULG Ice Cream Maker (P3,130 on Lazada)
The YOULG Ice Cream Maker is a straightforward machine that has a simple one-button operation for quick and easy cups of ice cream. Its 12-watt low power synchronous motor saves energy and keeps the noise level down, while the aluminum bowl and the built-in freezing liquid ensure a consistent chill.
Tylr Home Ice Cream Maker (P3,295 on Shopee)
Another easy-to-use machine, the Tylr Home Ice Cream Maker makes up to 1.5 liters of homemade cream. The LCD display and digital timer make sure you don't stop too early, while the ingredient funnel lets you add ingredients mid-churn. Just make sure to freeze the double-walled insulated freezer bowl before use.
Nostalgia DIC-200 Retro Snow Cone Maker (P4,700 on Shopee)
This isn't technically an ice cream maker, but we'll gladly count the Nostalgia Snow Cone Maker since it can make a cup of halo-halo in this intense heat. Just chuck in blocks of ice cubes and its stainless-steel cutting blades will churn out perfectly shaved ice while the cone holder catches it on the spot. And it looks cool in its retro style too!
Cuisinart ICE-21CN Ice Cream Maker (P7,800 on Lazada)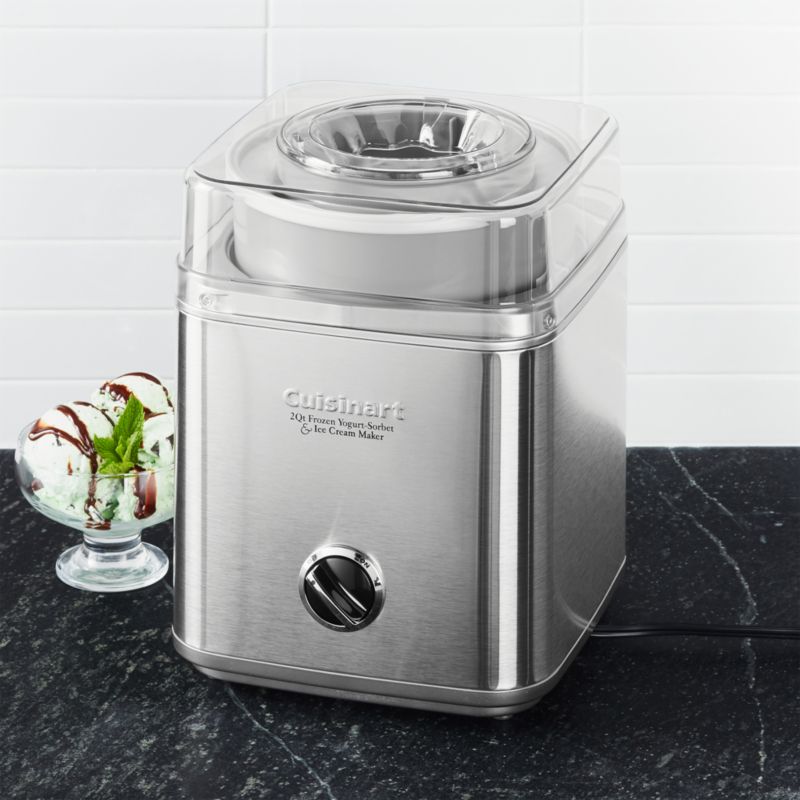 Slowly going towards the higher end of ice cream makers brings us to the Cuisinart Ice Cream and Sorbet Maker. It has a 1.5-quart capacity and a double-insulated freezer bowl which means fast and easy freezing that doesn't need ice anymore. It also has an easy-lock lid, and a large chute so you can see your ice cream form in front of you.
Petrus IC2308C Ice Cream Maker (P24,000 on Lazada)
Also part of the popular Cuisinart brand of kitchen contraptions, the Petrus Ice Cream Maker is a fully automatic machine that has a commercial-quality compressor and a large 1.5-quart capacity. It also has an LCD readout and a 60-minute countdown timer that has a keep-cool feature so your ice cream stays chilled for 10 minutes after churning.
DeLonghi ICK 6000 Ice Cream Maker (P26,240 on Shopee)
DeLonghi is an Italian brand, so you're guaranteed the best quality of creamy gelato. Its built-in compressor ensures a consistent low temperature in the inner bowl, while its hermetic transparent lid and special paddle which ensures that air hardly penetrates the mixture, a key component in making soft and rich ice cream.
So, which ice cream flavor do you want to try making first?