Being sheltered at home showed us that there are a million ways we can amuse ourselves, most of them being within the kitchen. We baked ube cheese pandesals, whipped up Dalgona coffees, and fried our own ready-to-eat- meals from famous restaurants. Now, it seems like the next step is getting more excited than what we cook with, over than the actual food we cook up.
Enter air fryers: these nifty devices that claim to combine most of the kitchen work into one convenient contraption.
If our research is right, they've been around since 2018, but they seem to have found their second wind around the first quarter of the year, a.k.a. around when we got all bored at home.
But what does it do, exactly? And is the hype worth it?
What can air fryers do?
"Air fryer" sounds a bit misleading, so the science side of the Internet has simplified it by calling the device a "beefed-up countertop convection oven." You place your food in the frying basket, and then, using the concentrated heating mechanism and the powerful fan located at the top, it blasts searing air that circulates up and down rapidly, giving your food a nice and even crisp. Notably, an air fryer cooks a lot faster than your regular deep-fryer — minus the oil too!
Why is the name misleading? Because knowing the principle behind it, you can do much more than just frying food. You can roast, steam, broil, and even bake stuff inside an air fryer. Since it barely uses oil, clean-up is a breeze as well.
Fried chicken? Crispy in no time. Frozen French fries? Just check them in there for movie night. Glazed salmon? Treat yourself.
That it cuts down on cooking time and saves precious counter space is why air fryers have gained a wealthy following lately. It's handy, it's compact, and it gets the job done.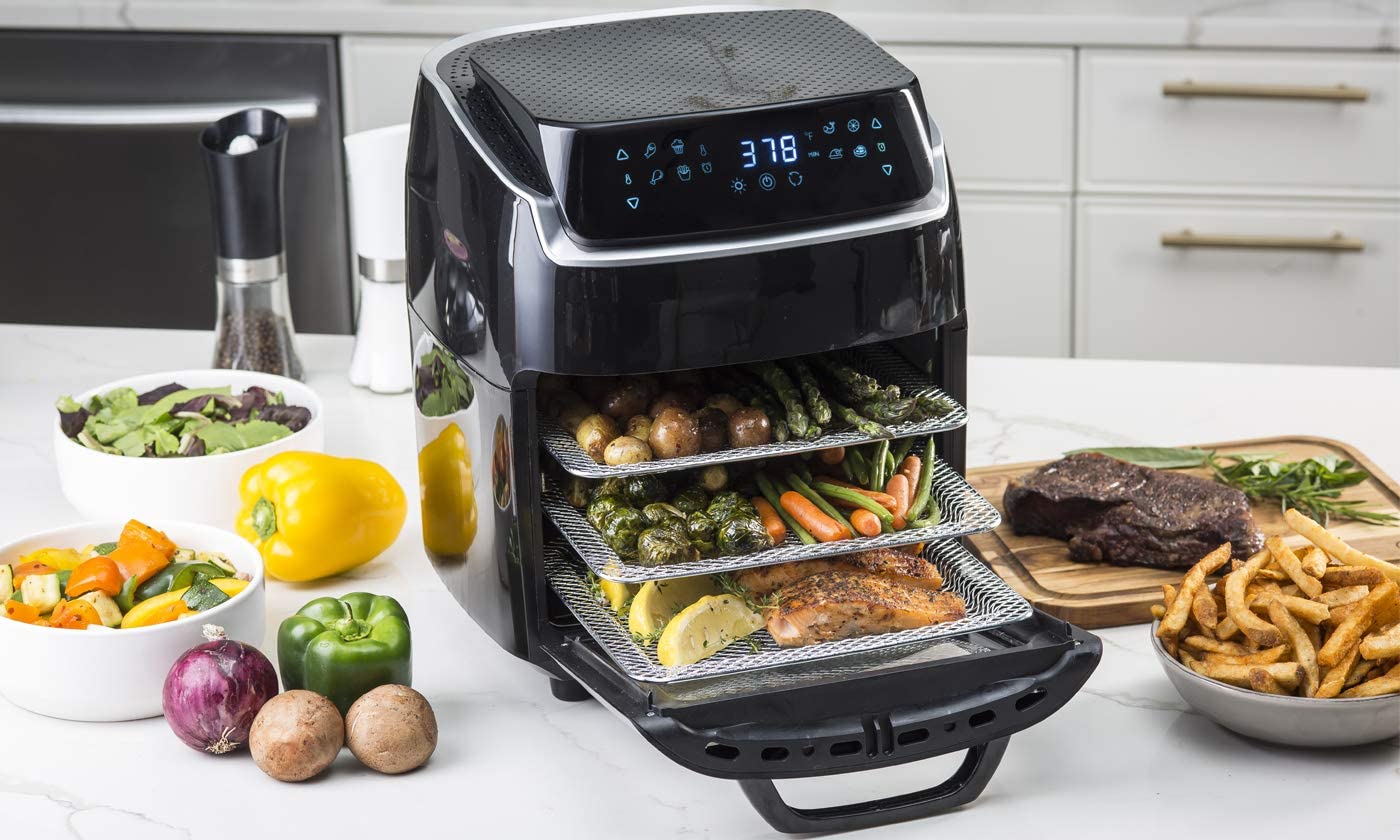 What can't air fryers do?
However, sometimes, size does matter, which might be the air fryer's biggest deal-breaker for kitchen connoisseurs. Most commercials models can only fit around two to three quarts, or about the same in kilograms, which can feed only a couple of people.
There are also bigger, family-sized units that can fit up to six quarts or feed up to about six people. However, having to pay for the premium price of larger capacities kind of defeats the air fryer's inherent benefit of economic versatility. But hey, at least you have options.
Another downside to the air fryer is you can't cook anything that comes in liquid form or has liquid content, or is cooked with batter. That means bidding goodbye to breaded chicken chops, tempura, most greens, and cheese (unless you put it in frozen, but then, what are you trying to make?).
Why would you want one?
Despite these, most people — and probably you at this point too — still want one because of the sheer convenience air fryers offer as well as the health benefits that come with foregoing the use of oil.
If you live alone and prefer not to spend too much time cooking, or if you want to practice your cooking skills without having to spend a lot of cash on kitchen contraptions, then an air fryer is a worthwhile investment.
Here are some of the top-rated air fryers online for your consideration:
Caribbean 4.0L CAF-3200 Air Fryer (PhP2,500 in Lazada)
Caribbean's budget air fryer has a 30-minute automatic timer knob, a 90-200 °C adjustable temperature knob, and a dishwasher-safe drawer-type frying pan.
Kyowa 3.0L KW-3810 Air Fryer (PhP3,500 in Shopee)
Clean-up is made even easier with Kyowa's non-stick food basket and residue collector. It also has an automatic shut-off feature so you don't overcook your meals.
Imarflex 3.0L CVO-300SB Turbo Fryer (PhP6,700 in Lazada)
Aside from its variable temperature control, this Imarflex Air Fryer also has an air duct design so the body keeps cool as it cooks.
Russell Hobbs 5.0L Brooklyn Digital Air Fryer (PhP10,995 in Shopee)
The Brooklyn Digital Air Fryer's ample 5-L capacity saves you even more time by letting you cook bigger batches. You can choose from its seven auto-fry functions – Chips, Chops, Prawns, Bake, Steak and Fish — that you can view on its digital touch-screen display.
Air fryers may be relatively young, but it's definitely going to be a part of a lot of kitchens in the future — maybe even yours.