Last Tuesday, trading card manufacturing company Topps was knee-deep in hot waters after releasing its 2021 Grammys-themed Garbage Pail Kids sticker collection which depicted a battered caricature of the K-Pop group BTS that people widely considered as an affront amidst rising anti-Asian hate crimes.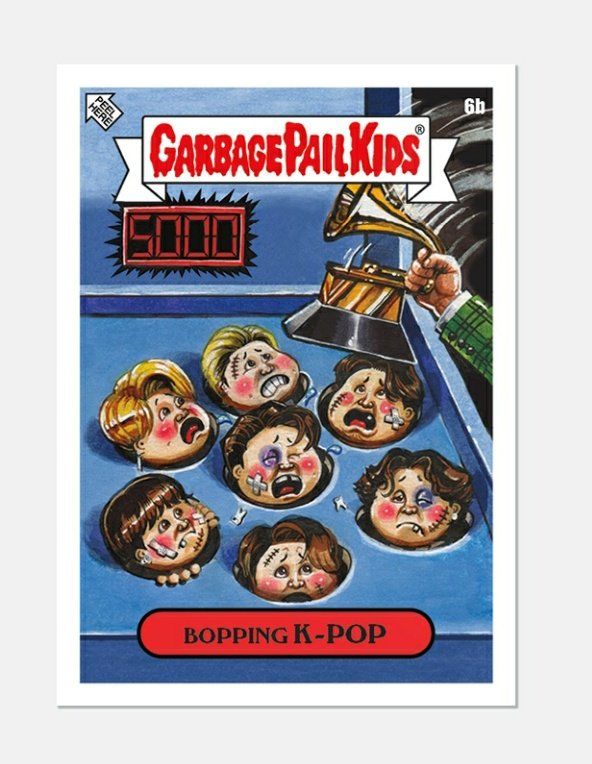 Following the 63rd Annual Grammy Awards on March 14, the release of Topps' "Shammy Awards" sticker collection is the latest in Garbage Pail Kids' long line of satirical trading cards depicting popular figures as having some sort of abnormality or drawn as part of a violent or vulgar setting. Album of the Year winner Taylor Swift became a moss-covered creature named "Tree Swift," Megan Thee Stallion turns into a "Stunning Stallion" riding off with her Grammy, multi-awarded "Buoyant Billie" Eilish sings atop a sinking car, and Harry Styles, with his Grammy-winning performance, is given the nickname "Harry Boa."
Meanwhile, BTS, who failed to win their first Grammy nod, is given their own caricature called "Bopping K-Pop," where all seven superstars are seen bloodied and bandaged after being hammered by a Grammy trophy, a resemblance to the Whack-A-Mole game. 
It was a clear jab at the group for coming short at the awards show, but social media users weren't amused at the "racist" portrayal of the pop group and demanded to know why BTS was the only artist in the collection to be put in an aggressive scenario.
The following Wednesday, Topps issued a brief statement in response to the deluge of disapproving comments on social media under the #RacismIsNotComedy hashtag.
"We hear and understand our consumers who are upset about the portrayal of BTS in our GPK Shammy Awards product and we apologize for including it," Topps wrote. "We have removed the BTS sticker card from the set, we have not printed any of the sticker card and it will not be available."
However, many still saw the apology as inadequate, as it fell short of acknowledging why the caricature was racist and how it "dehumanized" the group to a degree that no other artist in the Shammy collection was subjected to.
Some also stated that Topps, by failing to address the Asian community in its apology, has become complicit in the increasingly prevalent trend of violence, racism, and xenophobia towards Asian people, a trend that has caused every single one of the 3,800 hate-related crimes in the past nine months.