Travis Scott, Drake sued after eight die during deadly Astroworld Festival stampede.
What was supposed to be an exciting night turned tragic when a stampede of fans surging towards the stage during the set of rapper and headliner Travis Scott at last Saturday's Astroworld Festival killed at least eight people and injured dozens more.
An audience of around 50,000 people gathered at the sold-out venue where Scott and fellow rapper Drake was advertised to appear. As the headliner took to the stage at 9:30 PM, fans began budging forward that some struggled to breathe, with some members of the crowd suffering cardiac arrest and falling unconscious.
"That caused some panic, and it started causing some injuries," said Houston Fire Chief Samuel Peña. "People began to fall out, become unconscious. It created additional panic."
Minutes into the set, the ensuing chaos was declared a "mass casualty incident" by local authorities in Houston, Texas. "It happened all at once. It seemed like it just happened… over the course of just a few minutes," said Houston Police Executive Assistant Chief Larry Satterwhite. The supposed 75-minute set concluded at around 10:10 PM per Reuters.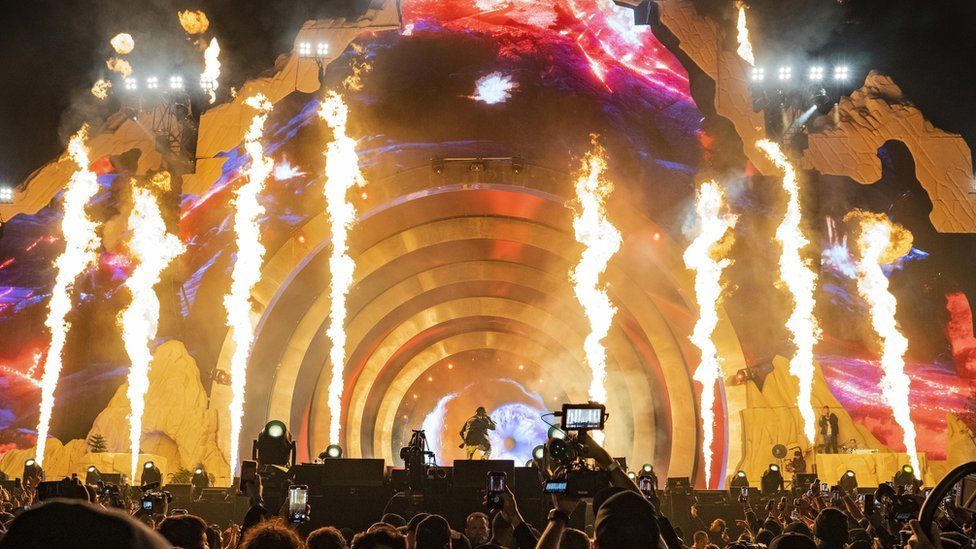 The victims of the fatal rush ranged in age from teens to young adults, with the youngest recorded death being a 14-year-old boy. At least 25 people were taken to nearby hospitals, with officials also reporting that a 10-year-old audience member was in critical condition.Travis Scott, Drake sued after eight die during deadly Astroworld Festival stampede
A day later, a Texas-based firm took to social media to release a statement confirming it had filed "one of the first lawsuits in Travis Scott Astroworld Festival tragedy," per Evening Standard.
The suit, filed by Kristin Paredes from Austin, Texas, claims Scott "had incited mayhem and chaos at prior events" and that "defendants knew or should have known of (Scott's) prior conduct," while also accusing Drake of contributing to causing the stampede. Paredes is seeking more than $1 million in injuries and medical expenses.
In a statement posted on his Twitter page, Scott said he was "absolutely devastated" and pledged his "total support" to the police and his commitment to "working together with the Houston community."
In another video, Scott said that he is working to "identify the families" of the victims to extend assistance "during this tough time." The Houston-born rapper also said that whenever issues arise during his concerts, he stops the show to help his fans "get the help they need."
The incident at this year's Astroworld Festival, an annual music event launched by Scott in 2018, marks the latest in a line of tragedies in concert venues in which packed crowds caused a fatal stampede. The same scenario took place in 1979 in Cincinnati where, during a live performance by The Who, 11 people were killed as thousands of fans stampeded to see the popular British rock band.