The first teaser trailer for Marvel's much-hyped Eternals finally dropped on Monday, and fans had a fill of the new superhero troop who's also apparently the oldest in the cinematic universe given their "near-immortality."
"We have watched and guided. We have helped them progress and seen them accomplish wonders," a voice narrates over scenes from various eras across several millennia. "Throughout the years we have never interfered, until now."
Get a first glimpse of the Eternals cast in the trailer below:
Directed by Oscar-winner Chloé Zhao, Eternals is stacked with a star-studded cast that shines in their own moments in the latest trailer: Angelina Jolie as the fierce warrior Thena; Richard Madden as the mighty Ikaris; Gemma Chan as the benevolent Sersi; Kumail Nanjiani as the cosmic yet comical Kingo; Lauren Ridloff as the quickster Makkari; Brian Tee Henry as the intelligent inventor Phastos; Lia McHugh as the perpetually young Sprite; Barry Keoghan as the detached Druig; Don Lee as the powerful Gilgamesh, and Salma Hayek as Ajak, the Eternals' spiritual leader. As if that wasn't stellar enough, the trailer also teased the arrival of Black Knight, brought to life by Kit Harington.
The clip also threw hardcore fans a good bone by teasing a meeting between the immortal band of celestials and "Earth's mightiest heroes," the Avengers. "I could lead them," said Madden's Ikaris, followed by a pause and then a burst of laughter from the whole group.
According to Marvel's official synopsis, Eternals is comprised of "ancient aliens who have been living on Earth in secret for thousands of years" created by the Celestials. Following the events of Avengers: Endgame, an unexpected tragedy forces them out of the shadows to reunite against mankind's most ancient enemy, The Deviants.
Along with the teaser, Marvel also released the first oficial Eternals poster. In it, the superhero team's silhouette glows underneath a sunlit backdrop and a starry night sky, with what we could presume as the mothership they came in with hovering over them.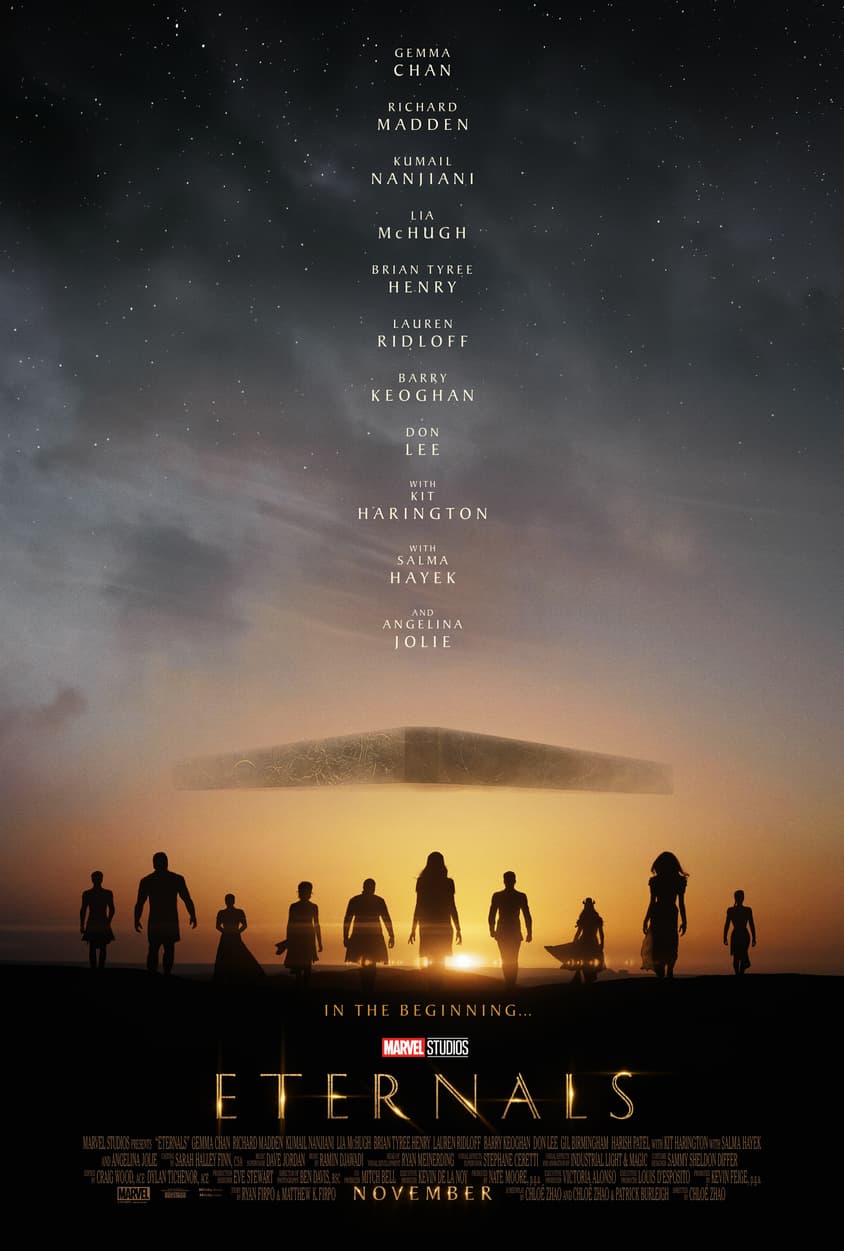 Eternals, the third film in the Marvel Cinematic Universe's Phase Four, premieres in theaters on November 5.