Here are all the funny first-time moments that BTS already had on the platform.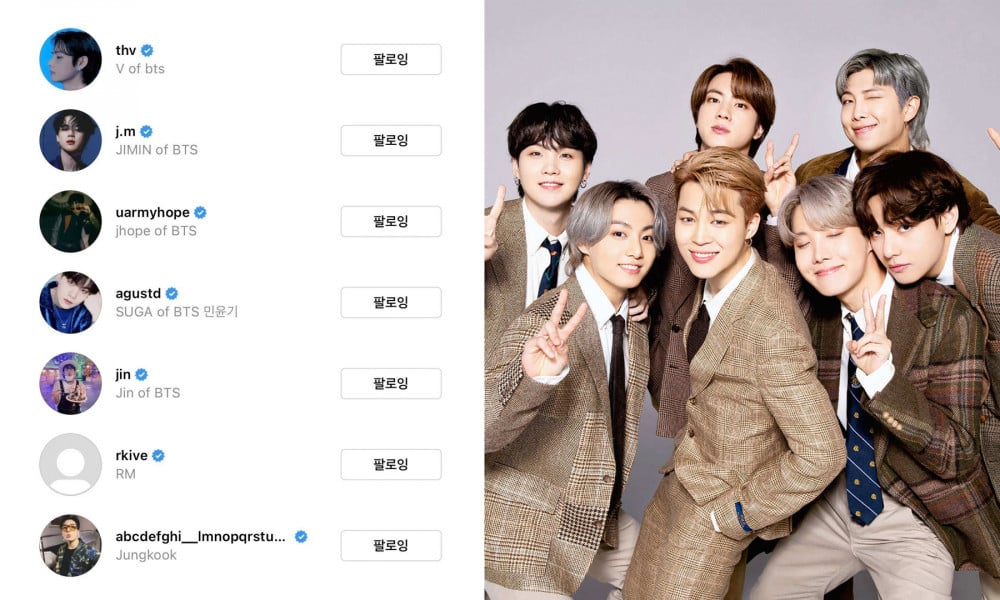 Finally, we can follow every member of BTS on Instagram!
On Monday, less than 24 hours after Big Hit Music announced their imminent "extended period of rest," BTS' Jin, Suga, J-Hope, RM, Jimin, V, and Jungkook all made their Instagram debut with their individual profiles.
What's more amazing than surprising is the fact that, as of writing, they have already amassed at least 18 million followers on each of their accounts! With this feat, each member has just broken the record set by Angelina Jolie when she accumulated over 7.2 million followers within just a day of joining Instagram.
Let's take a look at some of the confusing yet endearing first moments of the group on Instagram.
Jin
Jin's first photo on the site is of himself wearing red pigtails and a white long-sleeved t-shirt with the print "Permission to Dance." The picture has since garnered over 10.8 million likes.
Suga
Suga used to have three photos on his newly-launched Instagram account, but he accidentally deleted the first one: a photo of trees on the side of a road. On his second-ever post, he posted a plain red box and explained what happened in the caption: "Instagram is really hard."
Under the post, V chimed in with a piece of advice: "It's convenient to listen to YouTube lectures," adding the clap emoji. We stan idols supporting idols.
J-Hope
J-Hope's feed is probably the most consistent of the bunch, with his posts abiding by what looks like a Polaroid aesthetic.
In his first photo, which is a silhouette of himself, he had a quick exchange with Jin, replying to the latter's comment with "I'm so nervous."Jin then continued to comment-bomb J-Hope on his second post by saying, "Don't post weird pictures," and getting confused with the liking posts on Instagram: "I'm sorry, but why do you click likes on Instagram? Does that mean that I like your picture?"
RM
So far, RM has posted the most pictures on his feed with six, all chronicling random events in his life as an apparent nature lover. In one photo where he's seen taking a picture of a cat, fans had fun at the fact that he tagged Suga as the cat in focus.
Jimin
Like Suga, Jimin also only has a couple of photos on his feed. His first photo is a black-and-white shot of himself, with V suggesting in the comments section that he's the one standing from way behind him.
In his second photo, Jimin kept his caption short and simply said "luv u all" to their fans.
V
V's Instagram feed looks typical thus far, featuring a fossil, a candid and a spruced up photo of himself, and a dog. What made his first steps into Instagram interesting, though, is when he accidentally followed BLACKPINK's Jennie. He immediately unfollowed her, but not before fans took notice.
V took to social media site Weverse to explain that his fortuitous following activity was due to Instagram's recommendations. "Is there a way to get rid of this? It is a scary app," said V, and honestly? Same.
Jungkook
Like RM's, Jungkook's feed features both nature and himself inside the SoFi stadium in Los Angeles, which was taken during their recent Permission To Dance tour.
He also seems to have figured out Instagram pretty fast, as he's the only one in the group so far to already have highlights on his profile.
He even displayed his wit with his username, which spells out the whole alphabet save for a couple of letters: "J" and "K." Well played.
It's time to go on a follow-frenzy, ARMYs!
Art Daniella Sison