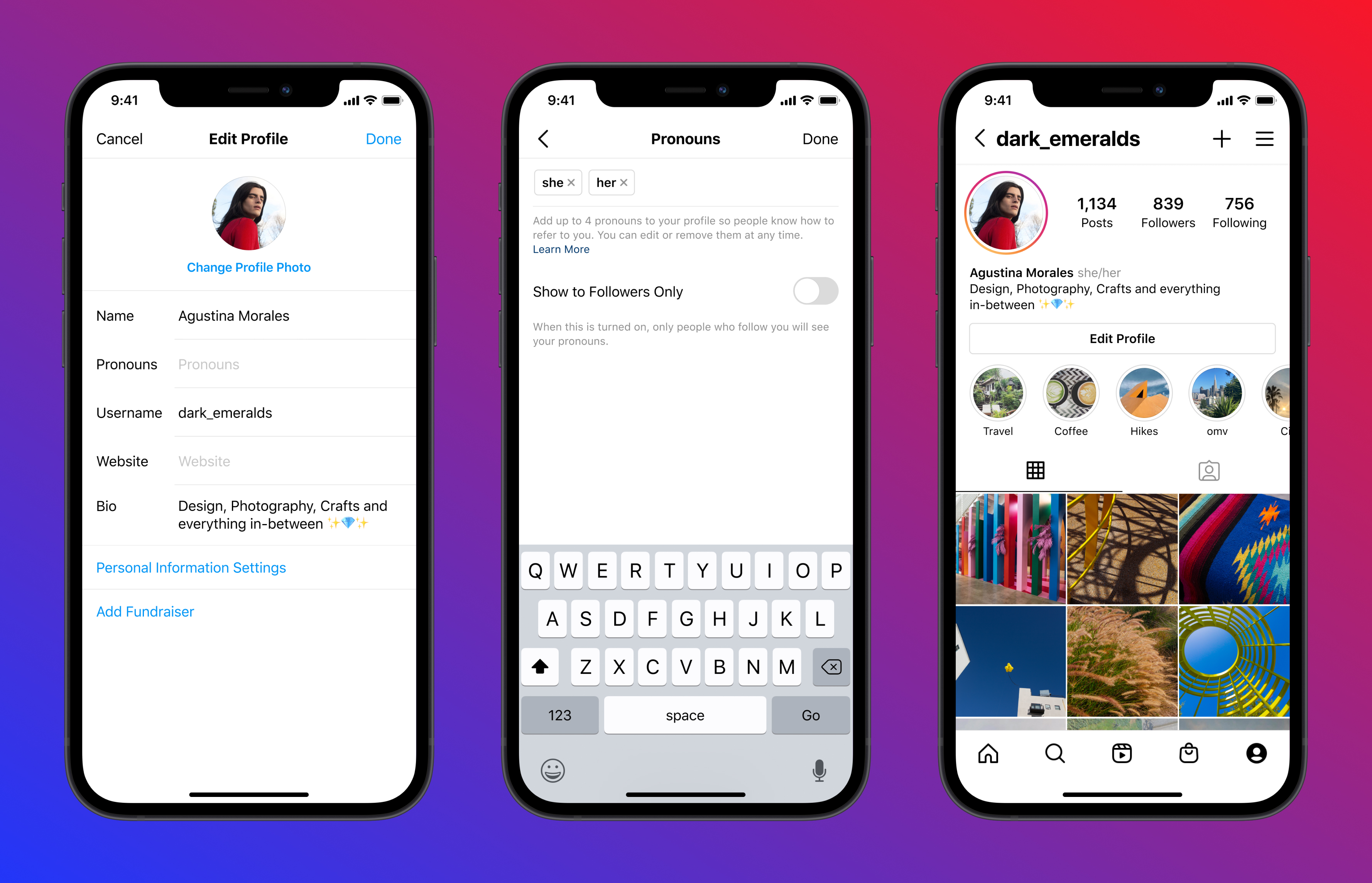 Instagram's really taking notes in 2021 on how to be a safer and more inclusive space.
Following their major update that gives users more power to filter abusive private message requests, Instagram has now added the option to specify one's gender identity on their profile.
Announced last Tuesday, the new feature lets users display up to four preferred pronouns from a pre-approved pool of common gender pronouns, which will then be displayed beside their name in slightly fainter font color. Users will be able to edit this section of their profile at any time, and will also have the choice to share the pronouns publicly on the platform or with their followers only. If a user is under 18, their pronouns will automatically be rendered private.
Currently, the pre-approved list includes the following pronouns:
co / cos
e / ey / em / eir
fae / faer
he / him / his
she / her / hers
mer / mers
ne / nir / nirs
nee / ner / ners
per / pers
they / them / theirs
thon / thons
ve / ver / vis
vi / vir
xe / xem / xyr
ze / zie / zir / hir
If a user's preferred pronouns aren't part of this list, they can prompt Instagram to consider adding them by filling out this form.
Up until this update was introduced, users have been using the space in their profile biographies to indicate their preferred pronouns. Not only does such an update save valuable space on people's bios, but it also signals a positive step for social media companies towards social inclusivity.
And yes, pronouns do matter. In a 2020 study by The Trevor Project, a quarter or about one in four LGBTQ youth use pronouns or pronoun combinations that "fall outside the binary construction of gender." Another research concluded that abiding by someone's preferred pronouns lowers the risk of depression and raises self-esteem.
With that said, users are still reminded that it is fully up to them to utilize the feature and to respect other user's decision to withhold their pronouns.