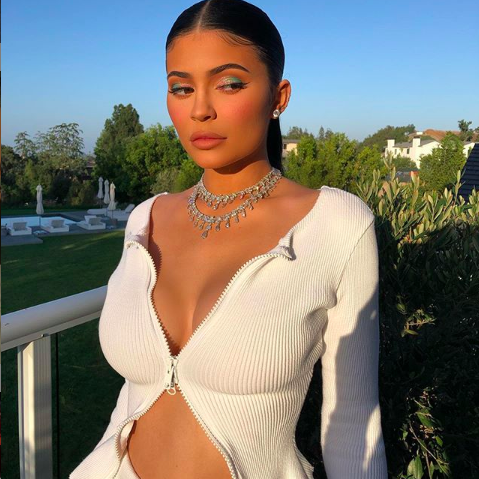 When one Twitter user said "abolish the upper class," we felt that.
This was one of the impassioned sentiments thrown towards Kylie Jenner after the founder of Kylie Cosmetics rallied her followers to a GoFundMe campaign meant to pay for her friend and makeup artist Samuel Rauda's hospital bills.
Rauda, who has worked with top celebrities like Bella Thorne, Chrissy Teigen, and frequently, Jenner herself, figured in a horrific car accident that required him to undergo "major surgery" on March 14. Rauda's friend, YouTuber and reality star La Demi, described the "awful accident" on her Instagram, writing that the 26-year-old makeup artist "flew off of a moving vehicle crushing his head into the pavement."
The tragedy prompted Rauda's family and close contacts to launch a GoFundMe campaign to raise funds for his hospital bills.
After catching wind of the incident, 23-year-old Jenner penned an optimistic post on her Instagram Stories on March 15. There, she asked fans to "say a prayer" for Rauda and to consider donating to the latter's fundraising initiative.
Swiping up on her post leads to the GoFundMe page, where fans saw Jenner's contribution amounting to $5,000, similar to Thorne's.
The amount, which seemed trivial to most given Jenner's astronomical net worth, was enough to cause a stir on social media.
Negative reactions to Jenner's deficient donation were swift and severe, most of which flooded Twitter the following day. One Twitter user asserted that Jenner's entire family and friends, which includes several millionaires, could have paid for the bills without having to "ask the middle class for money."
Another user raised a call to "abolish the upper class," citing how Jenner, whose net worth is pegged at around $900 million by Forbes, passing the buck in this situation is downright despicable.
Responding to criticisms over her paltry donation, Jenner once again took to Instagram to "clear up this false narrative."
Through a series of Instagram Stories, the makeup mogul clarified that she doesn't share a personal relationship with Rauda anymore and that her initial bequest of $5,000 was meant to put the campaign over its original target of just $10,000. Since it was published, the fundraiser has repeatedly met its target, causing it to swell to its current aim of $120,000.
Critics, however, remain unfazed by the clarification, with one Twitter user saying that if Jenner doesn't recognize a personal relationship with Rauda anymore, then that makes the fans whom she asked to donate even bigger strangers to the afflicted.
Jenner, the youngest member of the mega-wealthy Kardashian clan, was formerly touted as the world's youngest "self-made " billionaire by Forbes in 2019. Credit goes to her Kylie Cosmetics, whose majority of shares were sold to beauty giant Coty for $1.2 billion, as well as the string of appearances she made across various media. However, Forbes would strip Jenner of the title two months later, after an investigation revealed that Jenner exaggerated the size and profitability of her company. Forbes subsequently posted her net worth to an adjusted $900 million in 2020.
Still, $900 million is a bit bigger than $5,000. If she can buy her daughter Stormi a $15,000 Hermes bag, she can cover the full medical bill and then some.